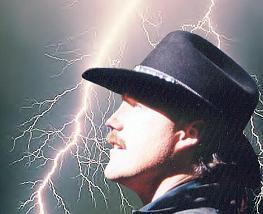 2001 NEWS

Local singer looks for

big break in Nashville

This week, Gibsonburg native Andrew Dean is making the trip he's made so many times before, but this one will have a little more meaning for the singer. Dean will be a contestant at the Fourth Annual NACMAI Country Music Awards in Pigeon Forge, Tennessee. He will compete in two categories; Male Vocalist of the Year and Male Entertainer of the Year.

"It's pretty much amateurs looking for a break. There'll be a room full of Nashville Brass looking to sign talent and if they like you.... That's what I'm going for. I'm an entertainer and it'll be an honor to just be there and do what I love," he says.

The trip will be a familiar one for Dean who has been traveling to Nashville every other weekend for the last year.

"It's sometimes every week, I've got the speeding tickets to prove it. We went down to Nashville and just started singing open mics. If there's an opportunity to sing, that's what you do. You try to put yourself in the right place at the right time. You never know who could be sitting on the other side," says Dean.

The competition will last three days and draw between 5,000 to 7,000 people.

Dean has a very high and low vocal range, which allows him to sing in different styles. But he describes his music as blues contemporary country. "I was really singing the blues in my rock-and-roll days. I tend to bend a lot of notes. I didn't like the direction some rock-and-roll music has taken. I've always listened to a lot of different styles but I've always liked those older styles of country like George Jones, Travis Tritt and Vince Gill," says Dean who also lists the Beatles as a major influence.

Unlike most musicians, Dean's strength is in his promotion. "I'm pretty determined and steadfast on what I'm doing. In every way, shape and form I promote it. Even if it's just getting a promotional package out to them or talking to their secretary. I've gotten quite a bit of exposure that way. Just getting out there and promoting," says Dean.

Dean is currently working on a new C.D., which will feature his vocals backed by studio musicians. Dean says he's especially excited about "In A Mother's Eyes", a song he wrote about Gibsonburg woman who donated the flag she received from her son for the flag raising at the Gibsonburg homecoming.

"It was her son's from Vietnam. It was the last thing she got," says Dean.

During the week, Dean splits time between his music business and his job with his family as an auctioneer. "We work hard during the week to pay the bills," he says.

Dean has been a musician all his life and can play the piano, guitar and drums. Since high school, he has written over a 100 songs. "My lyric ability is definitely my strength. I can write emotional, poetic and even funny lyrics. I'm what you call an observist. I've been through a lot of things and seen a lot of things and I draw on that," says Dean.

Dean has always loved music but his trips to Nashville and his increased dedication have only come recently now that his kids have gotten a little older. "I've always been devoted to my music but I have two children. I'm one of those guys, I have to play next to a clock or I'll be late everywhere I go," says Dean.

Dean has thought about trying to be a Nashville songwriter and allow other musicians to record his songs.

AJ Zosda, Press writer

MOST PROMISING ENTERTAINER of 2001

March 20, 2001

Back from an exciting and very informative learning week with the fine musicians of NACMAI, Andrew Dean has this to say " It was my honor to perform on the same stage as the very fine talent this week. Many friendships have been made and valuable knowledge gained through this network."

Many thanks to Joan Carol Stone
(wife of Cliffie Stone
"You Gotta Be Bad Before You Can Be Good")
for her valuable help during her seminar. If you have the opportunity to attend Joan Carol's seminar in the future - Be There!
Andrew Dean

Entertainer of the Year 2001  New Country Music

Male Vocalist of the Year 2001  New Country Music

The Seventh Annual Tennessee Country Music Associations TCMA Competition and Awards Show 2001 was held on October 21, 2001 at the Triple C Dance Barn in Sevierville, TN. After a full day of very talented musicians, who are qualified registered Tennessee CMA members, Andrew Dean was presented Entertainer of the Year 2001 in New Country Music and Male Vocalist of the Year 2001.

Showcasing in his first year as a member of the Tennessee Country Music Association was local singer/songwriter Andrew Dean. Becoming a member of the Tennessee Country Music Association in October 2000, Dean's musical style and performance gained him entry into two categories: Male Vocalist of the Year and Male Entertainer of the Year. Born in Gibsonburg, Ohio, the son of Kenneth and Linda (Toledo, formerly of Gibsonburg) and Grandson of Nella Willison (Gibsonburg), Dean's musical influences include the Beatles, Travis Tritt, Collin Raye, and George Jones. An upbringing filled with music is attributed to his parents. His mother Linda is the choir director and organist for Solomon Lutheran Church in Woodville, Ohio.  When not singing, Dean - owner and CEO of Black Hat Productions, is an apprentice auctioneer, working alongside his parents, owners of Aspacher & Aspacher Auction Service. Dean and his wife Terri currently reside in Gibsonburg with their children Andrew - 10, and Madalin - 8.

In August 2001 Dean completed CD, entitled Southern Wind with Mr. Norbert Stovall Executive Producer of Big Mama Recording Studios in Seymour, TN. Stovall has produced such singers as Marilyn McCoo, Dobie Gray, Louise Mandrell, Deborah Allen, Janie Fricke, Tony Orlando, Loretta Lynn, Larry Gatlin, Dolly Parton, and Waylon Jennings. Stovall also produced and recorded Dean's CD (Raging Thunder) 2000.

Future plans include a recording project, which will showcase local musicians on a CD named Andrew Dean and the Farm Machine (The Harvest). The release of this CD will coincide with the International Showcase for 2002 in Tennessee where the CD will be presented to music industry personnel and will gain international exposure.  Plans are being made for Andrew Dean's first CD in Contemporary Christian music (A New Horizon) and a new Christmas release. Andrew Dean is currently soliciting demo songs from qualified songwriters and selecting musicians for his latest projects.